"A Problem Well Stated is a Problem Half Solved"
Charles Kettering, head of research at General Motors
During the years with each project delivered from 2014 now, we have continuously improved our teams and each phase of the process, we optimized the development to assure the success of any software project and we are proud to present it to you in the following diagram.
This is a complete end-to-end BoostIT development process but it can be adapted based on each business case, project requirements and resources involved, including budget: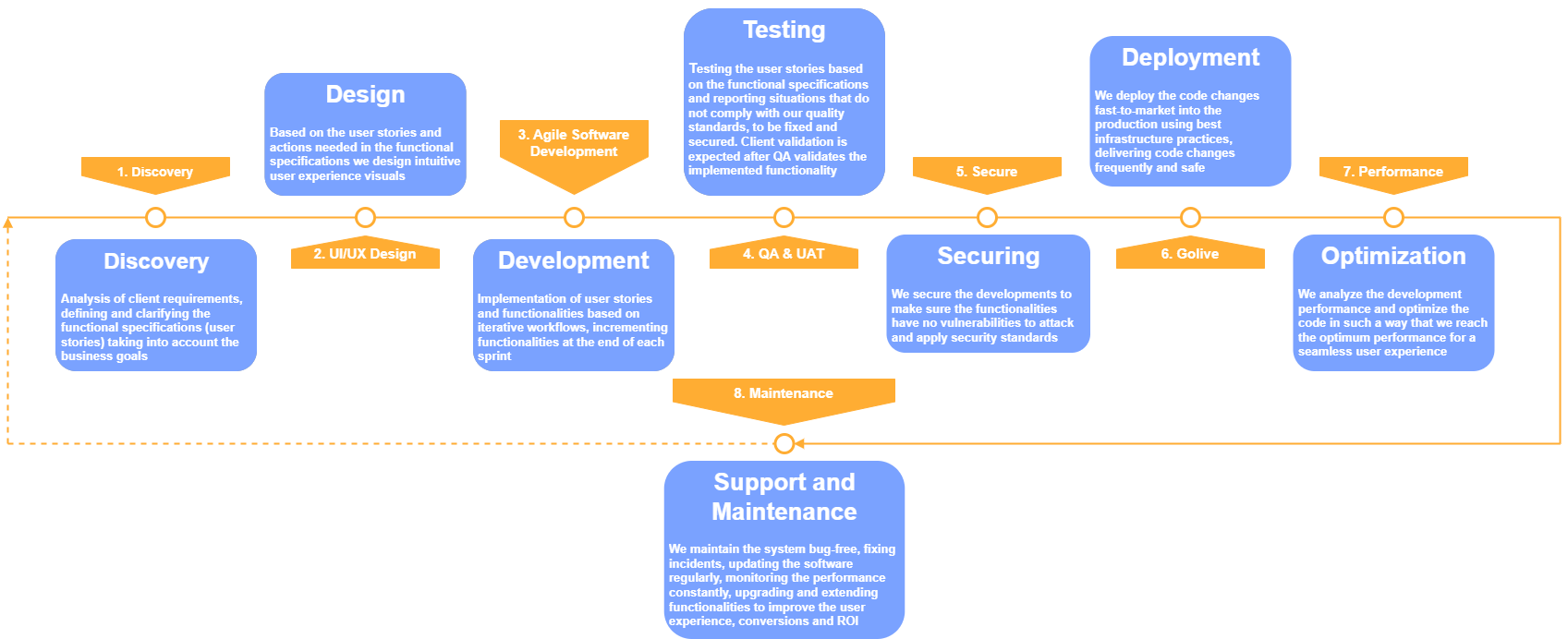 In what phase is your project now? Contact us for a free estimate!

The development process illustrated in the previews diagram is supported by a detailed planning and resource management in direct relation with the project scope budget, quality and timeline. Your project can start at any phase from 1 to 8 based on your development needs.
We breakdown the tasks identified in the discovery and design phase of the project, we document the specifications for the team to have them in written and very clear to avoid misunderstandings. Other use cases that would not been foreseen will pop-up during the process and that is normal for the code to be adapted for small functionalities/edge cases.
Changes and challenges that might appear during development would be addressed, provided solutions and discussed with the stakeholders to take the best decisions together.
Risks are notified as well in any cases that might appear from technical to administrative side of the project.
We are using collaborative tools and make the process transparent for main stakeholders of the project. We expect for client to be collaborative as well, this aspect is essential for the successful project delivery, providing us all project details, clear functionality specifications, provide constant feedback and all necessary details to remove delays from the development process and make it a lean progress and in the end a real success.